The DAKOS outpatient care service was founded in 2012. The office is located in Charlottenburg. Our operational area covers the entire Berlin region. Our team of qualified nursing, elderly and home care workers offers you and your relatives professional and individual advice and care in your familiar surroundings.
We are committed to you professionally, taking into account your personal wishes and your cultural environment. Our care service works with multilingual staff. We have a perfect command of German, Russian, English, Serbian and Polish.
Free Advice on our Care Services
Request your individual and non-binding consultation with our experts now.
"*" indicates required fields
Quickly and safely to the right care level:
The assessment by the MDK scares many people. Clients often try to gloss over their physical condition. The result: the care degree is refused. To prevent this from happening, we carefully prepare the MDK assessments together with our clients. We document all nursing measures in a nursing diary and provide the necessary documents such as doctor's and hospital discharge reports. In this way, we not only make the MDK's work easier, but also increase the chance of receiving the care degree that is necessary for comprehensive care.
Accompaniment through the assessment for obtaining a care degree
We accompany you through the entire process of obtaining a care degree. This includes the application and support during the assessment by the medical service of the health insurance fund.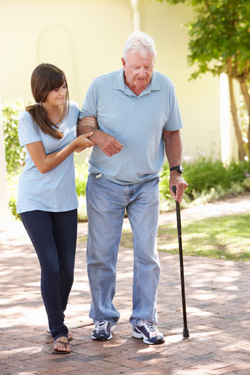 Our care service at a glance
If you have any questions about individual services, please contact us.